JEFF WHIPPLE RÉSUMÉ
<![if !vml]>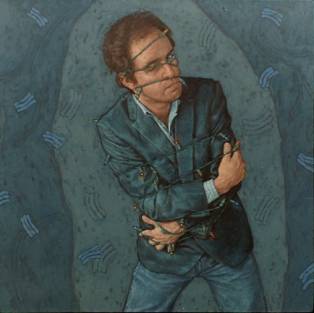 <![endif]>
"Portrait of the Artist as a Popular Icon", oil on canvas, 24" x 24", 1989
Collection of Betty Jensen, Captiva Island, Florida
<![if !supportEmptyParas]> <![endif]>
<![if !supportEmptyParas]> <![endif]>
M.F.A. 1980 University of South Florida
B.F.A. 1978 Northern Illinois University
<![if !supportEmptyParas]> <![endif]>
<![if !supportEmptyParas]> <![endif]>
2014  Florida Individual Artist Fellowship – painting
2012 Public Art Network 2012 Year in Review, my New Orleans commission was selected for the top 50 public art projects in the USA
2008 Artist Grant, Hillsborough County Arts Council - video
2007 Artist Enhancement Grant, Florida Arts Council
2006 Florida Individual Artist Fellowship – painting
2001 Fulton Ross Grant for Artists, a $10,000 grant based on career achievements
1996 Florida Individual Artist Fellowship – playwriting
1990 Illinois Individual Artist Fellowship – painting
1985 Illinois Individual Artist Fellowship – painting
1982 Florida Individual Artist Fellowship - painting
<![if !supportEmptyParas]> <![endif]>
Merit Ranking (fellowship elgibility but funding unavailable), Florida Arts Council: Playwriting, 2005, 2010 and Visual Art, 1990, 1996 and 2011
<![if !supportEmptyParas]> <![endif]>
<![if !supportEmptyParas]> <![endif]>
2016 Haskell Gallery, Jacksonville International Airport, Jacksonville, Florida
2015 The Distinguished Speaker Series, alt-space, Atlantic Center for the Arts, New Smyrna Beach, Florida
2013      Cultural Council's Arts Awards Featured Artist, Main Library Convention Center, Jacksonville, Florida
2011      Williams-Cornelius Gallery, Jacksonville, Florida
Williams-Cornelius Vault, Jacksonville, Florida
Jefferson Art Center, Monticello, Florida
North Florida Community College, Madison, Florida
2010 Seizing the Day, Museum of Florida Art, DeLand, Florida
The Ambivalent Genesis of Being, 621 Gallery, Tallahassee, Florida
2007 Signs of Life, Lake Eustis Museum of Art, Eustis, Florida
The Perpetual Spasm, C. Emerson Fine Arts, St. Petersburg, Florida
2006 The Spasm Between the Infinities, video/art installation on a Miami Beach hotel facade for the Tampa Museum of Art during Art Basel Miami
Long Time No See, Light, 80' video and 300' mural painting, Tampa Museum of Art, Tampa, Florida
C. Emerson Fine Arts, St. Petersburg, Florida
2005 Riled Life Refuge, Salt Creek Galleries, St. Petersburg, Florida
Moving Pitchers, Hillsborough Community College, Tampa, Florida
2004 Sketches, video and drawing installation, part of the 2nd Ybor Festival of the Moving Image, Tampa, Florida
2003 Twenty-five year Retrospective, Von Liebig Art Center, Naples, Florida
Twenty-five year Retrospective, Orlando City Hall Galleries, Orlando, Florida
Gallery Enormous, St. Petersburg, Florida
Florida Stage, Manalapan, Florida
Boxing Us, video and sculpture installation, part of the Ybor Festival of the Moving Image, Tampa, Florida
2002 Twenty-five year Retrospective, Gulf Coast Museum of Art, Largo, Florida
2001 Seminole Community College, Sanford, Florida
Alliance of the Arts, Fort Myers, Florida
A.E. Bean Backus Gallery & Museum, Fort Pierce, Florida
2000 Museum of Florida Art and Culture, Avon Park, Florida
Mount Dora Art Center, Mount Dora, Florida
1998 Buckhead Gallery, Atlanta, Georgia
Eitharong Gallery, Orlando, Florida
Mira Mar Gallery, Sarasota, Florida
Florida West Coast Symphony, Sarasota, Florida
Florida Stage, Manalapan, Florida
1996 Kanega, Sarasota, Florida
1995 University of Texas at El Paso, El Paso, Texas
Stetson University, DeLand, Florida
Elgin Community College, Elgin, Illinois
1994 Valencia Community College, Orlando, Florida
1993 Boca Raton Museum of Art, Boca Raton, Florida
Pensacola Junior College, Pensacola, Florida
Portland State University, Portland, Oregon
Barbara Gillman Gallery, Miami Beach, Florida
Casements Cultural Center, Ormond Beach, Florida
1992 Corbino Galleries, Sarasota, Florida
Arcade Theater, Fort Myers, Florida
TECO Plaza Gallery, Tampa, Florida
1991 Kunst Gallery, Denver, Colorado
Illinois Central College, Peoria, Illinois
McHenry County College, Crystal Lake, Illinois
University of North Florida, Jacksonville, Florida
Corbino Galleries, Sarasota, Florida
Manatee Community College, Bradenton, Florida
B.I.G. Arts, Sanibel, Florida
1990 West Virginia University, Morgantown, West Virginia
Berghoff-Cowden Galleries, Tampa, Florida
North Lakeside Cultural Center, Chicago, Illinois
Edinboro University, Edinboro, Pennsylvania
South Suburban College, South Holland, Illinois
Rainbo Club, Chicago, Illinois
1989 University of Florida, Gainesville, Florida
1988 Barbara Gillman Gallery, Miami, Florida
Berghoff Gallery, Clearwater, Florida
Raw Space, Chicago, Illinois
Rainbo Club, Chicago, Illinois
University of Tampa, Tampa, Florida
1987 Sybil Larney Gallery, Chicago, Illinois
Oakton Community College, Des Plaines, Illinois
1986 Florida State University, Tallahassee, Florida
Elmhurst College, Elmhurst, Illinois
Rainbo Club, Chicago, Illinois
1985 A.R.C. Gallery, Chicago, Illinois
Barbara Gillman Gallery, Miami, Florida
Elgin Community College, Elgin, Illinois
New School of Visual Arts, Tampa, Florida
Soho South Gallery, Clearwater, Florida
1984 Judson College, Elgin, Illinois
1983 Pensacola Junior College, Pensacola, Florida
Soho South Gallery, Safety Harbor, Florida
1982 Artist's Alliance Gallery, Tampa, Florida
Edison College, Fort Myers, Florida
Palm Press Gallery, Tampa, Florida
1981 Tampa Originals Gallery, Tampa, Florida
Brandon Cultural Center, Brandon, Florida
1980 University of South Florida, Tampa, Florida
<![if !supportEmptyParas]> <![endif]>
GROUP EXHIBITIONS
2017 Naples National, von Liebig Art Center, Naples, Florida, Jurors' Choice Award
2016 Southeast Regional, LaGrange Art Museum, LaGrange, Georgia
Pinnacle National, Florida A&M University, Tallahassee, Florida, Third Place Award
2015 All Media Biennial, Art and Culture Center, Hollywood, Florida, Merit Award
Obelisk 450, commissioned artwork, Compassionate St. Augustine, St. Augustine, Florida
UNF Art Faculty Show, University of North Florida, Jacksonville, Florida
2014 Our Shared Past, curated themed exhibition, Cummer Museum, Jacksonville, Florida
The 64th Anniversary Exhibition, Ridge Art Center, Winter Haven, Florida, Award of Excellence
2013"Our Shared Past", curated exhibition, Cummer Museum, Jacksonville, Florida
Face to Face: Self-Portraits from the collection of Jackye and Curtis Finch, Jr., Arkansas Art Center, Little Rock, Arkansas
          One Spark, Jacksonville, Florida
          UNF Art Faculty Show, University of North Florida, Jacksonville, Florida
          The 63rd Anniversary Exhibition, Ridge Art Center, Winter Haven, Florida
2012 Big Art, Mini Golf, curated artist mini golf course, Boca Raton Museum of Art, Boca Raton, Florida
          Folio Weekly Invitational, Cummer Museum of Art, Jacksonville, Florida
          The Highway Gallery, 12 artists on digital billboards, Clear Channel and Florida Mining Gallery, Jacksonville, Florida
          UNF Art Faculty Show, Museum of Contemporary Art, Jacksonville, Florida
          Florida Focus, curated selection by Ken Rollins, Studio@621, St. Petersburg, Florida
          National Art Encounter, Von Liebig Art Center, Naples, Florida
          Contemporary Art from the Gulf Coast Museum Collection, Leepa-Rattner Museum of Art, Tarpon Springs, Florida
          The 62nd Anniversary Exhibition, Ridge Art Center, Winter Haven, Florida, Award of Excellence
2011 Florida Artists Exhibition, competition, Santa Fe College, Gainesville, Florida, Award of Merit
Florida State University Faculty Show, 621 Gallery, Tallahassee, Florida
Ten Donors/Ten Works, Leepa-Rattner Museum of Art, Tarpon Springs, Florida
Pinnacle III, national art competition, Florida A&M University, Tallahassee, Florida, Best of Show Award
2010 About Face, 3-artist show, Ormond Memorial Art Museum, Ormond Beach, Florida
Pinnacle II, national art competition, Florida A&M University, Tallahassee, Florida, Merit Award
Florida Contemporary Exhibit, Naples Museum of Art, Naples, Florida
Biennial V, Museum of Florida Art, DeLand, Florida, Best of Show Award
Magic Silver, photo competition, Murray State University, Murray, Kentucky, Juror Award
Faculty Show, Florida State University, Tallahassee, Florida
2009 58th Annual All Florida Competition, Boca Raton Museum of Art, Boca Raton, Florida
All-Media National Exhibition IV, 621 Gallery, Tallahassee, Florida, Best In Show Award
Take Out, artists using take out containers, Brevard Art Museum, Melbourne, Florida
Pinnacle, national art competition, Florida A&M University, Tallahassee, Florida, 3rd Place Award
22nd Annual Northern National, Rhinelander College, Rhinelander, Wisconsin, Patron Award
Contain It, 10 artist installations in storage pods, Dunedin Art Center, Dunedin, Florida
25 Florida Fellowship Artists, University of Florida, Gainesville, Florida
25 Florida Fellowship Artists, City of Orlando Art Gallery, Orlando, Florida
17th Southeast Regional, Northwest Florida State College, Niceville, Florida
Philosophical Visual Metaphor in Contemporary Florida Art, Gallery for Innovation & the Arts, Tallahassee, Florida
59th Fine Arts Exhibition, Ridge Art Center, Winter Haven, Florida, Best of Show Award
Electronics Alive V, curated digital media exhibit, University of Tampa, Tampa, Florida
2008 Retro/Perspectives, 5 channel large-scale video installation in a group show, Tampa Museum of Art, Tampa, Florida
Independents' Film Festival, video, Education Channel, West Central Florida Cable Television, Florida Choice Award
57th Annual All Florida Competition, Boca Raton Museum of Art, Boca Raton, Florida
Florida Fellowship Artists, Polk Museum of Art, Lakeland, Florida
Black and White Show, Ridge Art Center, Winter Haven, Florida
Faculty Show, University of Tampa, Tampa, Florida
New Tampa Arts, New Tampa, Tampa, Florida, Honorable Mention Award
The Circle Revisited, Gallery 209, West Tampa Center for the Arts, Tampa, Florida
2007 Florida Fellowship Artists, Miami Dade College, Miami, Florida
Electronics Alive IV, University of Tampa, Tampa, Florida
20th Annual Northern National, Rhinelander College, Rhinelander, Wisconsin, Patron Award
Cognitive Romance, two-artist show with Chalet Comellas, Progress Energy Center for the Arts, St. Petersburg, Florida
New Tampa Arts Tampa Palms, Tampa, Florida, Best of Show Award
2006 Group Show, Bleu Acier, Tampa, Florida
56th Fine Arts Exhibition, Ridge Art Center, Winter Haven, Florida, Best of Show Award
Faculty Show, University of Tampa, Tampa, Florida
2005 54th Annual All Florida Competition, Boca Raton Museum of Art, Boca Raton, Florida
55th Fine Arts Exhibition, Ridge Art Center, Winter Haven, Florida, 2nd Place Award
Independent's Film Fest, video, Education Channel, West Central Florida Cable Television
2D-3D 2005, Alliance for the Arts, Ft. Myers, Florida
Flock Around the Dock, Florida Aquarium, Tampa, Florida
Adjunct & Alumni Show, University of Tampa, Tampa, Florida
Art Encounter 2005, juried national, von Liebig Art Center, Naples, Florida
2004 20th Anniversary Exhibition, Brad Cooper Gallery, Tampa, Florida
underCURRENTS/overVIEW 7, curated survey, Tampa Museum of Art, Tampa, Florida
Home Grown: Florida Artists from the Permanent Collection, Polk Museum of Art, Lakeland, Florida
Art 2004, Nathan D. Rosen Museum Gallery, Boca Raton, Florida, Award of Merit
4th National Art Exhibition, Visual Art Center, Punta Gorda, Florida
Independent's Film Fest, video, Education Channel, West Central Florida Cable Television
Ybor Festival of the Moving Image, 6 videos, Tampa, Florida, Narrative Comedy Award
54th Fine Arts Exhibition, Ridge Art Center, Winter Haven, Florida, Best of Show Award
2003 Small Works from the Arthur S. Goldberg Collection, Danforth Museum of Art, Framingham, Massachusetts
52nd Annual All Florida Juried Competition, Boca Raton Museum of Art, Boca Raton, Florida
Independent's Film Fest, video, Education Channel, West Central Florida Cable Television, Best Experimental Film Award
Party of Twelve, Bettcher Gallery, Miami, Florida
Take Home A Nude, invitational, Armory Art Center, West Palm Beach, Florida
The 53rdt Fine Arts Exhibition, Ridge Art Center, Winter Haven, Florida, Third Place Award
2002 Figurative Elements, All Florida Juried Exhibition, The Arts Center, St. Petersburg, Florida
On the Edge, (video), juried exhibition, Sarasota, Florida
National Art Exhibit, Visual Art Center, Punta Gorda, Florida
Cuban Sandwich Show, Viva La Frida, Tampa, Florida
All Media Exhibit, Art Center of Sarasota, Sarasota, Florida, Honorable Mention
Multiple Visions III, Selby Gallery, Ringling School of Art and Design, Sarasota, Florida
Northern Trust Annual Competition, Longboat Key Center for the Arts, Longboat Key, Florida, Third Place Award
2001 50th Anniversary Invitational, 15 Florida Artists, Boca Raton Museum of Art, Boca Raton, Florida
8th Annual National Juried Exhibition, Artists Unlimited, Tampa, Florida
Figurative Works, Juried National Exhibition, Armory Art Center, West Palm Beach, Florida
Two Artist Show, Clayton Galleries, Tampa, Florida
Gallery Artists, Spiller Vincenty Gallery, Jacksonville, Florida
2D/3D Exhibition, Alliance of the Arts, Fort Myers, Florida
The 51st Anniversary Exhibition, Ridge Art Center, Winter Haven, Florida, Award of Excellence
Northern Trust Annual Competition, Longboat Key Center for the Arts, Longboat Key, Florida, Best of Show Award
2000 Sarasota Biennial, Ringling Museum of Art, Sarasota, Florida
43rd Chautauqua National Exhibition of American Art, Chautauqua Art Center, Chautauqua, New York
Idiosyncracies, Figurings, Regional Group Show, Florida Atlantic University, Boca Raton, Florida
Wallpaper, Group Show, Pedestrian Gallery, Jacksonville, Florida
Landscapes, Group Show, Mira Mar Gallery, Sarasota, Florida
Images, Objects & Ideas, Group Show, Merrick Gallery, St. Petersburg, Florida
4th Annual National Competition, Ridge Art Center, Winter Haven, Florida
Paintings of Florida, Two artist show with Susan Klein, Clayton Galleries, Tampa, Florida
Northern Trust Annual Competition, Longboat Key Center for the Arts, Longboat Key, Florida, Equal Award
1999 The Museum Collection, Gulf Coast Museum of Art, Largo, Florida
Artistic Waters, Invitational, The Florida Aquarium, Tampa, Florida
Jean Bordeaux Florida Sculpture Competition, LeMoyne Art Foundation, Tallahassee, Florida
Florida Images, Four Artist Show, DeLand Museum of Art, DeLand, Florida
11th Annual All Florida Juried Exhibition, The Arts Center, St. Petersburg, Florida
Group show, Pedestrian Gallery, Jacksonville, Florida
3rd Annual National All Media, Ridge Art Center, Winter Haven, Florida
Shannon Exhibit, Longboat Key Center for the Arts, Longboat Key, Florida, Best of Show Award
61st National Exhibition of Contemporary American Paintings, Society of the Four Arts, Palm Beach, Florida
Group Show, Clayton Gallery, Tampa, Florida
Town of Longboat Key Show, Longboat Key Center for the Arts, Longboat Key, Florida, Best of Show Award
Sarasota Artists, Invitational, Selby Library, Sarasota, Florida
1998 Lest We Forget, a national survey about the Gulf War, Armory Art Center, West Palm Beach, Florida
A Fan Fantasy, Ringling Museum of Art, Sarasota, Florida
2nd Annual National, Ridge Art Center, Winter Haven, Florida, Award of Excellence
Much Ado About Art, Saltcreek Artworks, St. Petersburg, Florida
1997 Impressionistic Realism, Indigo Galleries, Boca Raton, Florida
9th Annual All Florida, Center for the Arts, St. Petersburg, Florida, Juror's Choice Award
12+1, Sarasota Visual Art Center, Sarasota, Florida
60th Anniversary International, Manatee Art League, Bradenton, Florida
Inside/Outside, Fulton Burt Gallery, Sarasota, Florida
1996 Small Works, Miramar Gallery, Sarasota, Florida
Figurative Painters, Dartmouth Street Gallery, Albuquerque, New Mexico
Featuring Florida, Ringling Museum, Sarasota, Florida, Purchase Award
Biennial II, Florida Gulf Coast Art Center, Belleair, Florida
45th Annual All Florida Juried Exhibition, Boca Raton Museum of Art, Boca Raton, Florida
The Texas International, University of Texas at El Paso, El Paso, Texas
8th Annual All Florida, Center for the Arts, St. Petersburg, Florida
The 10th Coastal National, Glynn Art Association, St. Simons Island, Georgia
Shannon Exhibit, Longboat Key Art Center, Longboat Key, Florida, Best of Show
Artist as Activist, Florida Gulf Coast Art Center @ Salt Creek Galleries, St. Petersburg, Florida
The World Around Us, Manatee Art League, Bradenton, Florida, Equal Award
Group Show, Indigo Galleries, Boca Raton, Florida
LBK Exhibit, Longboat Key Art Center, Longboat Key, Florida, Equal Award
1995 The Nuclear Neighborhood, The Peace Museum, Chicago, Illinois
1994 Biennial I, Florida Gulf Coast Art Center, Belleair, Florida, Purchase Award
43rd Florida Juried Competition, Boca Raton Museum, Boca Raton, Florida
All Florida Juried Show, The Arts Center, St. Petersburg, Florida
3rd Annual Competition, Longboat Key Art Center, Longboat Key, Florida, Best of Show Award
Portrait & Figure, Art League of Manatee County, Bradenton, Florida, Merit Award
1993 55th National Exhibition, Society of the 4 Arts, Palm Beach, Florida, J. C. Houser Award
Corbino Galleries, Sarasota, Florida
1992 Annual Juried Exhibition, Orlando Museum, Orlando, Florida, Best of Show Award
Waking the Dream, Center for the Arts, Vero Beach, Florida
Festival of Trees, Tampa Convention Center, Tampa, Florida, Merit Award
Sleeping on a Bed of Nails, ARTarget, Sarasota, Florida
1991 40th Juried Exhibition, Boca Raton Museum, Boca Raton, Florida
Image, Irony, Illusions, five artist show, Spaces, Cleveland, Ohio
Disjunctive, four artist show, Valencia Community College, Orlando, Florida
Artists of Florida, Sarasota Art Association, Sarasota, Florida
Selections From Florida Collections, Dunedin Art Center, Dunedin, Florida
Directions, Corbino Galleries, Sarasota, Florida
Florida Landscape, The People, Miami Dade Public Library, Miami, Florida
Northern Trust Show, Longboat Key Art Center, Longboat Key, Florida, Honorable Mention
Faculty Show, Ringling School of Art, Sarasota, Florida
Annual Juried Exhibition, B.I.G. Arts, Sanibel, Florida
Human Image Show, Art League of Manatee County, Bradenton, Florida, Honorable Mention
1990 Faculty Show, Ringling School of Art, Sarasota, Florida
Artfest '90, Venice, Florida, First Place Award
40th Juried Exhibition, Quincy Art Center, Quincy, Illinois, Merit Award
4th Annual Regional Show, Gallery Ten, Rockford, Illinois, 3rd Place Award
Artforms '90, Lafayette Museum of Art, Lafayette, Indiana
Faculty Show, Northern Illinois University, DeKalb, Illinois
1989 Documents of Censorship, A.R.C. Gallery, Chicago, Illinois
Artist as Provocateur, Northeastern Illinois University, Chicago, Illinois
The Beautiful and the Ugly, Center of Modern Art, Gainesville, Florida
Faculty Show, Northern Illinois University, DeKalb, Illinois
Alumni Selections, N.I.U. Gallery, Chicago, Illinois
1988 Par Excellence, School of the Art Institute Gallery, Chicago, Illinois
1987 Sybil Larney Gallery, Chicago, Illinois
Berghoff Gallery, Clearwater, Florida
Some People's Work We Really Like, N.I.U. Gallery, Chicago, Illinois
Bates Gallery, Chicago, Illinois
Figuration in the Eighties, Hodgell-Gillman Gallery, Tampa, Florida
Figuration in the Eighties, Joan Hodgell Gallery, Sarasota, Florida
1986 Rutgers National Works on Paper, Rutgers University, Camden, New Jersey
29th Annual Beloit Vicinity Competition, Beloit College, Beloit, Wisconsin
1985 9th Annual Competition, Harper College, Palatine, Illinois
11th Juried Exhibition of Illinois Artists, Artemisia Gallery, Chicago, Illinois
Florida Figures, Miami-Dade Community College, Miami, Florida
Vicinty Show, Norris Cultural Art Center, St. Charles, Illinois
Nine Artists Briefly, Captiva Library, Captiva Island, Florida
2nd Annual Competition, Elgin College, Elgin, Illinois, 2nd Place Award and Purchase Award
Soho South Gallery, Clearwater, Florida
People, Places and Things, Miami-Dade Community College, Miami, Florida
1984 10th Juried Exhibition of Illinois Artists, Contemporary Art Workshop, Chicago, Illinois
Invitational, Florida's Center for Contemporary Art, Tampa, Florida
Update: Small Works, Valencia Community College, Orlando, Florida
Soho South Gallery, Safety Harbor, Florida
1983 9th Juried Exhibition of Illinois Artists, Wicker Park Gallery, Chicago, Illinois
Recent Funambulism, 2 artist show, Cape Coral Art Gallery, Cape Coral, Florida
Small Works Competition, Valencia Community College, Orlando, Florida, Purchase Award
Chairs, Southeastern Center for Contemporary Art, Winston-Salem, North Carolina
Soho South Gallery, Safety Harbor, Florida
New Artists, Morgan Gallery, Kansas City, Missouri
1982 Florida Painting '82, Jacksonville Art Museum, Jacksonville, Florida
Drawings and Prints Southeast, Gulf Coast Art Center, Belleair, Florida
Miami International Print Biennial, Metro Museum, Coral Gables, Florida, Award of Merit
Dimensions '82, Westside Art Gallery, Phoenix, Arizona, Best of Show Award
1981 Museum Choice, Loch Haven Art Center, Orlando, Florida
James Rosenquist Invitational, Artist's Alliance Gallery, Tampa, Florida
Hangar One, Artist's Alliance Gallery, Tampa, Florida
1980 Tampa Bay '80, Tampa Museum, Tampa, Florida
Wonderworks '80, Centennial Art Center, Nashville, Tennessee
Hodgell-Hartman Gallery, Sarasota, Florida
Student Art Competition, University of South Florida, Tampa, Florida, Best of Show Award
Object as Subject, Artist's Alliance Gallery, Tampa, Florida
Grad student show, University of South Florida, Tampa, Florida
1979 Student Art Competition, Northern Illinois University, DeKalb, Illinois, 2nd Place Award
1978 Vicinity Competition, Art Institute of Chicago, Chicago, Illinois
It Only Hurts at the Knees, 2 artist show, Northern Illinois University, DeKalb, Illinois
1977 Ars Nova, Northern Illinois University, DeKalb, Illinois
<![if !supportEmptyParas]> <![endif]>
RECENT PUBLIC ART COMMISSIONS AND PURCHASES
<![if !supportEmptyParas]> <![endif]>
2015 Obelisk Art 450, St. Augustine, Florida – Painted 8 foot tall obelisk for the 450th Anniversary of St. Augustine.
2014 Ballou High School Lobby- Mural, 9 feet by 75 feet, Washington, DC
2012 New Orleans East Library- 11 commissioned paintings, New Orleans, Louisiana
2011 Harbinger Sign Company, Portrait of Roger Williams, Owner, Jacksonville, Florida
2006 Tampa Museum of Art – Video projection in Miami Beach during Art Basel Miami Beach week
2006 City of Tampa, Florida - Video projection (temporary) and 300-foot long lighted mural (permanent)
2005 Florida A&M University, Tallahassee, Florida- Mural for the Coleman Library
2004 Whole Foods Market, Sarasota, Florida – Purchase of a 1995 oil painting for exhibit in their store
2004 Hospice of Chiefland, Chiefland, Florida – Two commissioned sculptural benches
2003 MacDill Air Force Base, Tampa, Florida – Portrait of Gen. Benjamin O. Davis, Jr.
2003 Hospice of the Lakes, Palatka, Florida – Two commissioned sculptural benches
2002 Johnson Library, St. Petersburg, Florida - Mural, 3 feet by 150 feet
2001 Volusia County Courthouse, De Land, Florida - Four commissioned oil paintings, 5 feet by 6 feet each
2001 Alachua Regional Service Center, Alachua County, Florida - Two oil paintings purchased.
2000 McGraw-Hill Companies, New York, New York - Six oil paintings purchased.
1999 The European Academy of Early Education, Nokomis, Florida - Mural, 3 feet by 140 feet
1998 Volusia County Agricultural Center, De Land, Florida - Four commissioned oil paintings, 6 feet by 12 feet each
1998 The Hospice of North Central Florida, Gainesville, Florida - Five commissioned cast concrete sculptural benches
<![if !supportEmptyParas]> <![endif]>
<![if !supportEmptyParas]> <![endif]>
<![if !supportEmptyParas]> <![endif]>
PUBLICATIONS – selected examples from dozens of published articles
<![if !supportEmptyParas]> <![endif]>
"Couch Potatoes of the 21st Century", full-length play, Eldridge Publishing Company, 2001
"Creators and Collectors," columns featuring interviews of artists and art collectors, The Weekly Planet, Sarasota edition, 1999
"On View: Miami," The New Art Examiner, April 1996, 36
"The Culture Cowboy", weekly column on art and culture, Albuquerque Tribune, 1995-1996
"Job Fishing in San Antonio," The New Art Examiner, February 1996, 12
"Get thee to the asphalt," theater review, The Albuquerque Tribune, August 3, 1995, Wild Life section cover story, 3-4
"Wigged Out: Lorna Simpson at Richard Levy Gallery," NuCity, weekly newspaper, Albuquerque, NM, January 25, 1995, 21
"The Invisible Censor," Edgewise Magazine, July/August 1994, 16
"Field Guide to the Art of Jeff Whipple," 12 page booklet for supplementing solo exhibitions, 1990 – 1995
<![if !supportEmptyParas]> <![endif]>
AWARDS – Juried Exhibitions
2015 All Media Biennial, Art and Culture Center, Hollywood, Florida, Merit Award
2014 The 64th Anniversary Exhibition, Ridge Art Center, Winter Haven, Florida, Award of Excellence
2012 The 62nd Anniversary Exhibition, Ridge Art Center, Winter Haven, Florida, Award of Excellence
2011 Florida Artists Exhibition, competition, Santa Fe College, Gainesville, Florida, Award of Merit
Pinnacle III, national art competition, Florida A&M University, Tallahassee, Florida,Best of Show Award
2010 Pinnacle II, national art competition, Florida A&M University, Tallahassee, Florida, Merit Award
Biennial V, Museum of Florida Art, DeLand, Florida, Best of Show Award
Magic Silver, photo competition, Murray State University, Murray, Kentucky, Juror Award
2009 All-Media National Exhibition IV, 621 Gallery, Tallahassee, Florida, Best In Show Award
Pinnacle, national art competition, Florida A&M University, Tallahassee, Florida, 3rd Place Award
22nd Annual Northern National, Rhinelander College, Rhinelander, Wisconsin, Patron Award
59th Fine Arts Exhibition, Ridge Art Center, Winter Haven, Florida, Best of Show Award
2008 Independents' Film Festival, video, Education Channel, West Central Florida Cable Television, Florida Choice Award
New Tampa Arts, New Tampa, Tampa, Florida, Honorable Mention Award
2007 20th Annual Northern National, Rhinelander College, Rhinelander, Wisconsin, Patron Award
New Tampa Arts Tampa Palms, Tampa, Florida, Best of Show Award
2006 56th Fine Arts Exhibition, Ridge Art Center, Winter Haven, Florida, Best of Show Award
2005 55th Fine Arts Exhibition, Ridge Art Center, Winter Haven, Florida, 2nd Place Award
2004 Art 2004, Nathan D. Rosen Museum Gallery, Boca Raton, Florida, Award of Merit
The 54th Anniversary Exhibition, Ridge Art Center, Winter Haven, Florida, Best of Show Award
Mario Fratti-Fred Newman Anti-Corruption Playwriting Contest, Castillo Theater, New York, NY, Honorable Mention
2003 The 53rd Anniversary Exhibition, Ridge Art Center, Winter Haven, Florida, Third Place Award
2002 All Media Exhibit, Art Center of Sarasota, Sarasota, Florida, Honorable Mention
Northern Trust Annual Competition, Longboat Key Center for the Arts, Longboat Key, Florida, Third Place Award
2001 The 51st Anniversary Exhibition, Ridge Art Center, Winter Haven, Florida, Award of Excellence
Northern Trust Annual Competition, Longboat Key Center for the Arts, Longboat Key, Florida, Best of Show Award
2000 Northern Trust Annual Competition, Longboat Key Center for the Arts, Longboat Key, Florida, Equal Award
1999 Shannon Exhibit, Longboat Key Center for the Arts, Longboat Key, Florida, Best of Show Award
Town of Longboat Key Show, Longboat Key Center for the Arts, Longboat Key, Florida, Best of Show Award
1998 2nd Annual National, Ridge Art Center, Winter Haven, Florida, Award of Excellence
1997 9th Annual All Florida, Center for the Arts, St. Petersburg, Florida, Juror's Choice Award
1996 Featruing Florida, Ringling Museum, Sarasota, Florida, Purchase Award
Shannon Exhibit, Longboat Key Art Center, Longboat Key, Florida, Best of Show
The World Around Us, Manatee Art League, Bradenton, Florida, Equal Award
LBK Exhibit, Longboat Key Art Center, Longboat Key, Florida, Equal Award
1994 Biennial I, Florida Gulf Coast Art Center, Belleair, Florida, Purchase Award
3rd Annual Competition, Longboat Key Art Center, Longboat Key, Florida, Best of Show Award
Portrait & Figure, Art League of Manatee County, Bradenton, Florida, Merit Award
1993 55th National Exhibition, Society of the 4 Arts, Palm Beach, Florida, J. C. Houser $1000 Award
1992 Annual Juried Exhibition, Orlando Museum, Orlando, Florida, Best of Show Award
Festival of Trees, Tampa Covention Center, Tampa, Florida, Merit Award
1991 Northern Trust Show, Longboat Key Art Center, Longboat Key, Florida, Honorable Mention
Human Image Show, Art League of Manatee County, Bradenton, Florida, Honorable Mention
1990 40th Juried Exhibition, Quincy Art Center, Quincy, Illinois, Merit Award
4th Annual Regional Show, Gallery Ten, Rockford, Illinois, 3rd Place Award
1985 2nd Annual Competition, Elgin College, Elgin, Illinois, 2nd Place Award and Purchase Award
1983 Small Works Competition, Valencia Community College, Orlando, Florida, Purchase Award
1982 Miami International Print Biennial, Metro Museum, Coral Gables, Florida, Award of Merit
Dimensions '82, Westside Art Gallery, Phoenix, Arizona, Best of Show Award
1980 Student Art Competition, University of South Florida, Tampa, Florida, Best of Show Award
1979 Student Art Competition, Northern Illinois University, DeKalb, Illinois, 2nd Place Award