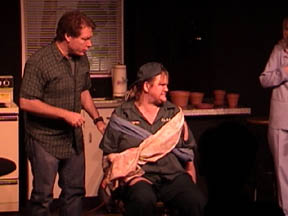 The Meat Bush
A genetic engineer discovers a way to make plants grow meat. He plans to market the seeds and make millions but there is a terrible side effect. The pollen of the plant causes people to grow leaves and become half-plants. This causes considerable mayhem and eventually leads to a half-plant gay man becoming pregnant and having a baby…or a seedling…or something.
ONE SET, TWO ACTS
5 ACTORS: 2 MEN, 3 WOMEN
Produced as the winner of the 2001 Florida Playwright's Process at Ruth Eckerd Hall, Clearwater, Florida, April 2001
Directed by David Frankel
Starring:
David Haynes
Richard Shermer, Jr.
Marie Hyman
Carolyn Zaput
Barbara Eaker
MORE PICTURES FROM THE MEAT BUSH