Jeff Whipple 25-Year Retrospective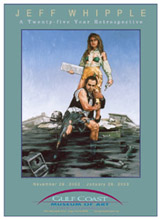 (click the image above to see the poster)
CLICK HERE TO SEE THE WORKS IN THE EXHIBITION
Jeff Whipple's 25-year retrospective originated at the Gulf Coast Museum of Art in Largo, Florida in December 2002. The show traveled to Orlando and Naples in 2003.
The Gulf Coast Museum exhibition had 68 works (4 sculptures) with the 2D works adding up to 160 running feet. The show also had a catalog and poster.
The artwork was selected by Mark Ormond, former Deputy Director and Curator of Contemporary Art at the Ringling Museum of Art. Ormond also wrote a 2000 word essay for the catalog. Along with an essay, the 36 page catalog features reproductions of representative works from the show.
The GCMA show included a staged reading of Jeff Whipple's play, "The Terrorism of Love", December 8, 2002
The reading was directed by David Frankel and it starred five local actors.
Click on a topic in the list below to view aspects of this exhibition.