"I Married A Ninja" and "The Ninja Love Trilogy" written and directed by Jeff Whipple
Produced in Chicago and at Michigan State University in 1987 and 1988. A video version was made for Chicago cable television and that ran for a couple years.
Starring Kelly Butler and David Franks
Curtis Osmun also played the Ninja in the original production.
SYNOPSIS:
A young woman wears a vacuum cleaner and a party dress. She talks about her problems at work and with her husband. When she gets excited, as she often does, her vacuum starts up. Her husband is unemployed and angry. He finds part of a necktie in a jar of mayonaise and believes it's product tampering. The woman wants to have a baby the same way wildebeests do, while running.

The performances included sketches by the author that illustrated aspects of the story. The Ninja flipped the pages of a sketchbook on stage as the play progressed.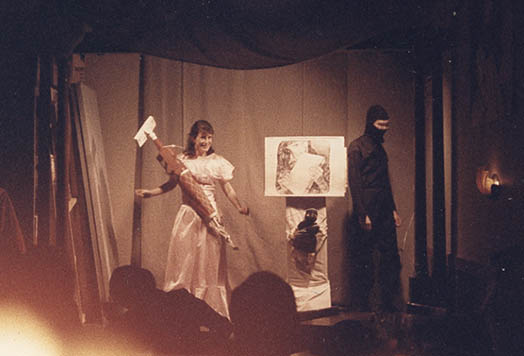 Above: Kelly Butler and Curtis Osmun performing "I Married a Ninja" at Sheffield's in Chicago in 1987. Below is the poster for the sequel, which starred Kelly Butler and David Franks. It was produced at the Rainbo Club, Columbia College and Sheffield's in Chicago. The Ninja Love World Tour '88 brought the show to Michigan State University in the spring of 1988. On the way back to Chicago the left rear wheel of the Ninja Love Cloth Covered Tour Sedan broke off on the interstate. No one was hurt but the Ninja had to take a bus back while the car was being repaired.