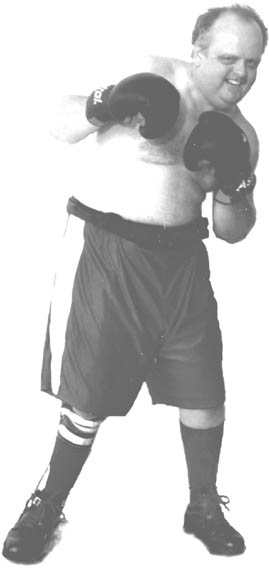 THE POLIO BOXER is a one-man show starring Roger Freeman. It was first produced at the Players Theater in Sarasota in 1997. It was produced by the Arcade Theater in Fort Myers later in 1997 and in 1998, it was produced at the Caldwell Theater in Boca Raton, Florida.
SYNOPSIS: The Polio Boxer is based on the life of Roger Freeman whose right leg was ravaged by polio as a baby. Now in his forties, Roger is faced with the inevitable return of polio symptoms. Roger must walk with a leg brace and as polio symptoms return, the main threat is that he'll be confined to a wheel chair.
The set is a boxing ring in which Roger performs in boxing shorts and gloves. His "challenger" in the ring is a wheel chair. Roger's triumphs, frustrations and dreams are told through monologues and songs. Boxing is used as both a metaphor for his battle with polio and also the struggle everyone has in finding value and meaning in life.
THE POLIO BOXER STORY
by Jeff Whipple
"You're lookin' at the new champion of the world. I am the Polio Boxer. I am going to kick Polio's butt."
Those are the first lines Roger Freeman says in "The Polio Boxer", a one-man play based upon his experiences with polio. Roger battled polio when he was a baby in 1953, only months before the first vaccinations. Now there's a rematch as he experiences post-polio syndrome. But this time, he's determined to win the fight.
The play takes place in a boxing ring and Roger is quite a sight in boxing shorts and gloves. He is, to put it gently, not an athlete and there's a large brace on his right leg. But that's okay because this boxing match is a symbolic fight with polio; Roger never actually throws a punch. The play is really about Roger's dynamic zeal for life and his determination to live without limitations.
Roger is an experienced actor for stage and screen and I first met him in 1992 when he was cast in a production of my play TUNNELS IN THE CRUST. It was then that I first started notes for the "The Polio Boxer." Five years later, after many interviews and rough drafts, I finally had the script finished. I was nervous about showing it to Roger, not knowing if he'd like it. He cried when he read it, feeling both the happy and sad emotions of his life story. A month later he was performing it before a live audience and they too felt those emotions.
Other theaters have produced the show since then and the audience response has been wonderful. The play provides a lot information about the "forgotten" disease but it's about more than polio. Roger's story is universal. It's really about overcoming problems and creating a terrific life. After the performances I've talked to audience members and it's amazing how many of them are so eager to tell their own experiences with polio or how they all knew someone who had it.
In 1998, we met with a post-polio support group in Florida. Roger walked in wearing his boxing outfit and performed a couple scenes from the play. The group was captivated and deeply moved. Later, several of the polio survivors said, "I've always wanted to say that! It's just how I feel."
In the show Roger talks directly to the audience, laughs, sings, dances and sometimes shows his anger against polio. He liked seeing the faces in the audience and making eye contact. Though the play had him going to emotional and physical extremes for an hour and a half, the shows got him so charged up he couldn't sit still for hours afterward.
We've taken a break from the show and hopefully we'll get a chance to do an updated version in the near future. I just need to write it.