DIORAMA is a contemporary drama with some humor that examines how careers and dreams change with new technologies and (de)evolving cultural appreciation.
When flashy, digital technology threatens to replace the old exhibits in a natural history museum, the staff realizes they will become obsolete too if they don't stop the change.
Diorama by Jeff Whipple © 2015
Two acts, 4 scenes
3 females, 3 males
CAST
LAURA – 22, museum worker, attractive, wears nice work clothes
COLIN – 30ish, museum worker, attractive, grungy work clothes
DALE – 50 to 65, museum work crew boss, wears a bow tie
SOPHIE – 50 to 60, museum worker, lab coat
MIKE – 40 to 55, museum worker, nervous energy, work clothes
WHITNEY – 30ish, museum administrator, attractive, stylish office attire
TIME AND SETTING
The time is the present, late fall. The events take place over two days.
The set is a diorama in a small natural history museum. The diorama is a scene of the African Serengeti but it's being dismantled. There are wooden crates and cardboard boxes. The animals are either removed or they're covered in cardboard, plastic and bubble wrap. There is a section of tall grass attached to wooden planks. There could be an artificial tree and fake rocks. The background could be a plain wall with signage or it could have a painted mural of the Serengeti landscape and sky. There could be a rail or barrier to separate the public from the diorama. There are plaques that display the names and related information about the animals that were on display. There are many tools and power cords. With each day change there are more items removed from the diorama to show that it's being dismantled.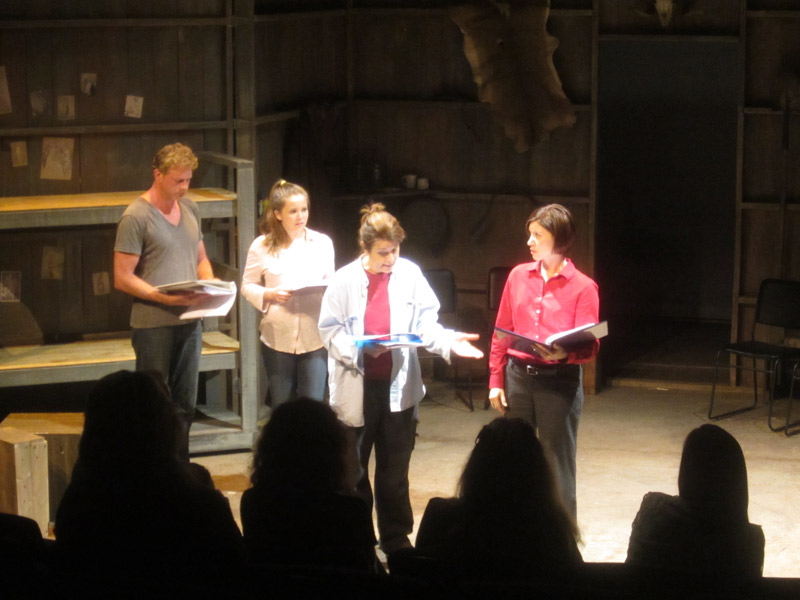 "Diorama" won the 2012 Breaking New Ground playwriting competition at Stageworks Theatre in Tampa, Florida. The award included a review by a Chicago Dramatist's dramaturg and wonderfully staged reading at Stageworks in May. Angela Bond directed a terrific cast. Audience response was very positive.